Traditional retail continues to face meaningful headwinds due to the consumer shift towards eCommerce. Small and emerging brands are required to navigate which sales channels they utilize (eCommerce, wholesale, retail) in order to optimize growth potential and profitability, while managing the risks inherent with different channels. Specifically, the rise of Amazon has provided an enormous growth platform for brands. The Amazon platform and its opportunities and risks are not significantly unlike other shifts when changes in consumer behavior were driven by growth and market share gains of a new successful platform (e.g. rise of suburban shopping malls, emergence of Walmart, etc.) If managed properly, Amazon can in fact be less risky than previous industry transformations. Investors need to understand the risks inherent to working with Amazon and ensure Company leadership is equipped to manage the business properly to avoid potential pitfalls.
If there are Risks to Utilizing the Amazon Platform, Why Do It?
Why do brands want or frankly need to be on Amazon? Amazon is by far the largest eCommerce channel and is still taking share, in part because Amazon's Prime and Seller Central models have disrupted physical retail. The popularity of Amazon Prime continues to grow. Amazon eCommerce market share is currently estimated at 38% of all online sales (Source: Emarketer, Inc. July 2019), from 28% in 2015 (source: Packaged Facts). Ebay is the second largest online retailer, with 6% share, followed by WalMart at 5%. Many analysts predict that Amazon, which grew 20% in 2019 to $280b, will surpass WalMart in overall size by 2021 or 2022. Amazon has disrupted physical retail with the success of Prime and Seller Central. Prime has transformed expectations of consumers, who can avoid trips to stores and receive goods in 24 – 48 hours.
Note: There are two primary ways to work with Amazon (1) Vendor Central, which is essentially selling your products to Amazon who then re-sells them (similar to traditional wholesale), and (2) utilizing Amazon's Seller Central platform where you sell your products through Amazon at your desired price and then pay Amazon a sales commission. Altacrest strongly prefers Seller Central for young, growing brands.
In addition to access to the large customer base of Amazon, there are many advantages for a young brand using Seller Central as compared to physical retail: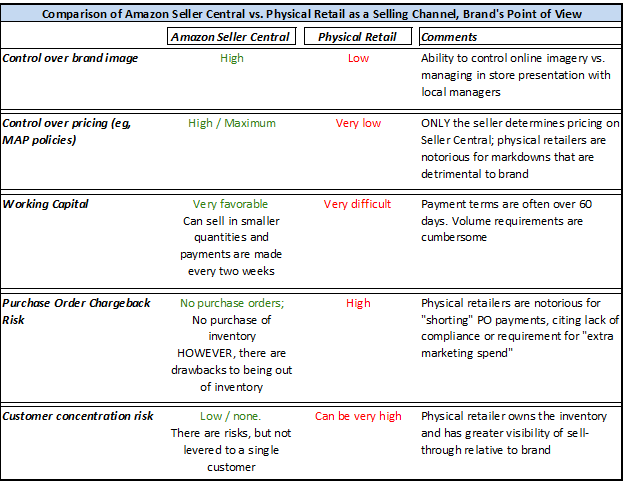 What Are Amazon's Objectives?
In addition to its consumer facing website, Amazon has built one of the largest moats in industrial history via its enormous logistics network with endless distribution centers, trucks, etc. all designed with the goal of getting products to individual consumers (not stores) as quickly and efficiently as possible. In order to maximize the value of this network, Amazon requires significant product volume. As such, making the Amazon Seller Central platform a destination for consumers and successful brands is a strategic priority for Amazon. Amazon will private-label certain products; however, this is no different than every other retailer (Target, Walmart, CVS, etc.) In addition to private-label, retailers (including Amazon) must attract brands desired by consumers to maintain their status as a destination of choice.
For the first time, Amazon reported that during 2018, the Seller Central Marketplace sold 58% of Amazon's gross physical merchandise. During 3Q 2019, Amazon ad revenue, which comes from brands on the Seller Central platform, was $3.6 billion, up from $2.5 billion in 3Q 2018, and $1.1 billion in 3Q 2017. Amazon's status as the top destination eCommerce platform is heavily tied to the success of its Seller Central marketplace. The marketplace significantly increases profitability for Amazon through ad revenue and sales commissions and provides eCommerce scale in the face of competition from Facebook, Google, Apple, and others.
Given the advantages to a young brand of growing via Seller Central, and the strategic importance of the success of Seller Central to Amazon, Altacrest believes strongly in executing on the Amazon Seller Central platform as part of an overall eCommerce growth strategy.
What Are the Biggest Risks of Selling on Amazon Seller Central and How Do You Mitigate Them?
Risks associated with selling through Amazon's Seller Central platform are real; however, in our view they are not significantly higher than risks in other traditional retail channels. An investor need look no further than recent Wall Street Journal articles to learn of some of the primary risks of selling on Amazon. The most important Amazon Seller Central-specific risk is the use of Blackhat selling tactics, which Altacrest mitigates prior to investment as a priority diligence item. A summary of key risks and mitigants is below.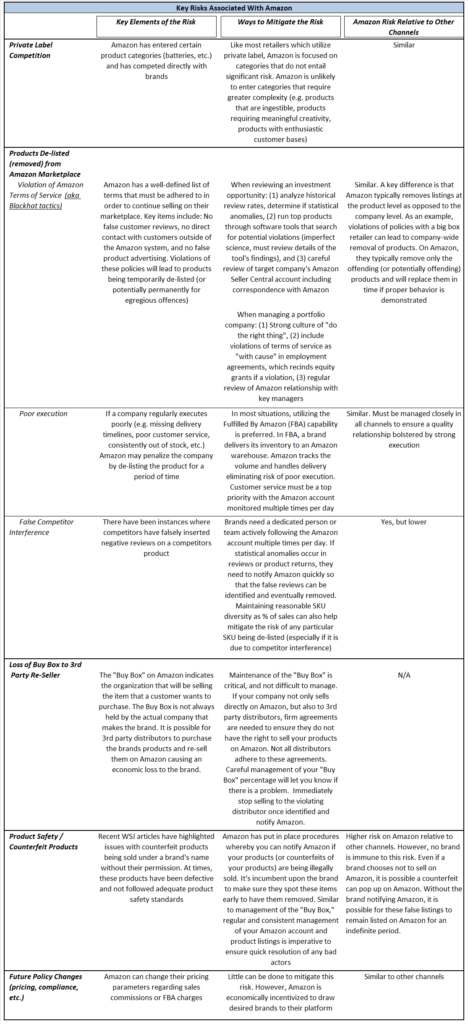 As illustrated above, there are numerous risks to selling on the Amazon Seller Central marketplace. However, when analyzed more closely it is apparent that most of these risks can be managed with prudent procedures put in place coupled with diligent execution. The opportunity for young brands to grow quickly and profitably on Amazon is very meaningful. Cash generated via Amazon sales can be utilized to fund an omni-channel strategy where a brand can diversify away from Amazon and provide its products to customers wherever they prefer to make their purchase. With meaningful cash generation from Amazon and other eCommerce channels a young brand can eventually enter traditional wholesale/retail (including big box) without the usual downsides of significant customer concentration and lack of selling power, a goal certainly worth pursuing.