SUMMARY TAKEAWAYS:
The current environment is difficult for digital consumer brands. An edgy consumer, higher costs everywhere, and a rapidly shifting, more difficult targeted ad spend environment has impacted most consumer brands negatively into 2022.
We believe strongly that this is a cycle and will present opportunities i) for brands that have focused on fundamentals including profitability and ii) for investment opportunities in the sector. Factors to consider:

Consumer spend represents 70% of the US economy. It's not going away.
eCommerce has experienced severe disruption from Covid but longer-term trends point to a return to "normal" future market share gains.
With its portfolio companies, Altacrest is focused on the fundamentals applying rigorous discipline around return on ad spend, efficient inventory forecasting, effective brand messaging, profitable customer acquisition, opportunistic growth with new product development and selective channel expansion. We are seeking the same in new investment opportunities who are also focused on the fundamentals.
Focusing on the Fundamentals
In October 2021, at an Altacrest portfolio company Board meeting, we contemplated a number of troubling factors that were impacting Q4 performance. Were all costs rising at once? Material costs, shipping costs and labor costs? All increases coming in a much less efficient ad spend environment which was severely impacting new customer acquisition (i.e., much higher ad costs)? Would Russian troops amassed at the Ukraine really invade? We laughed nervously about this confluence because there was not any other reaction we could stomach. And, as it turned out, the answer to all of these questions was a resounding yes.
And so it goes into 2022. Since I've been working with discretionary consumer businesses since 1999, I've witnessed multiple cycles but rarely a tougher environment. 2000-01 was no time to be an internet technology company. 2007-08 was as hard as it gets on financial service businesses, with severe repercussions across our economy. At the moment, discretionary consumer businesses, especially those that relied on a less evolved ad spend environment through 2021, and some of whom benefited significantly from Covid during 2020, are struggling to regain their footing in 2022.
So where are we on all of these issues (we'll ignore Russia Ukraine here)? What have our companies been focusing on in this macro context? When will this cycle turn and what is the outlook we see? What are the implications for investing in eCommerce brands going forward?
Brief review of cost categories: some good news, some mixed news
Shipping costs are finally coming down. We see this directly in our businesses and our competitors. And we feel like we have good visibility that this will continue. Capacity is finally loosening. Container pricing is well off the peak from fall 2021. While prices are still much higher than prior to the fall 2021 sticker shock, we see shipping costs continuing to fall. Moreover – and this could have a large impact on all cost inflation in 2022 – consumer businesses are ordering significantly less inventory in the summer of 2022. Which should further relieve capacity.
While inflation is at its worst in decades, lower inventory orders may improve material costs in general. Practically every major retailer in the US is over-inventoried and severely discounting to clear it out. While many economists at this point believe inflation may have peaked, the consensus is that prices will not abate quickly. Inflation has been weighing on consumer demand during 2022 and appears as though it will continue to do so.
The labor market is also a mixed picture. For consumer and tech businesses, especially those related to eCommerce, significant layoffs have begun (see Shopify, Warby Parker, Allbirds, Walmart, and many others). Still, the picture is mixed. The Labor Department announced robust job growth in July (over half a million jobs added). Reviewing some recent searches for key spots at our companies, it certainly isn't easy to find great candidates at desired prices. But, retention has become somewhat easier.
Discretionary consumer demand: an evolving and difficult environment
For our focus – eCommerce consumer brands – the current environment has become extremely difficult with consumer sentiment at all-time lows.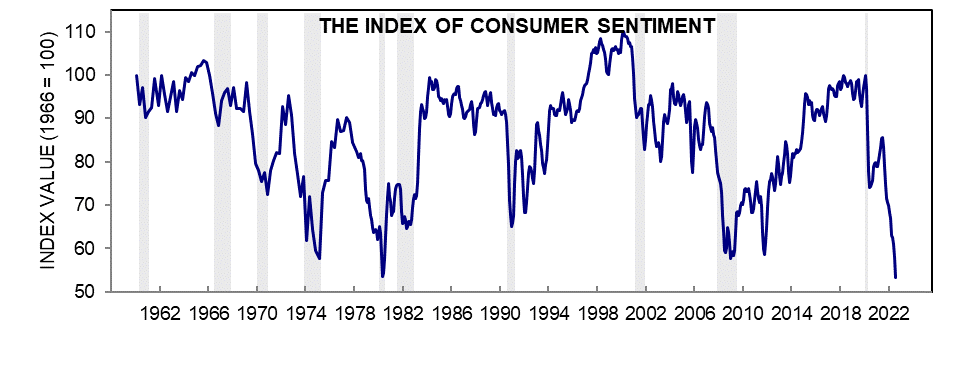 Demand has been negatively impacted by inflation as consumers are paying more for essentials like food and gas. The war in Europe increases uncertainty. There have been some bright spots – travel and weddings for example – that resulted from pent up demand from Covid, but those have only served to further hamper spending in other categories.
The ad spend environment continues to evolve, and not in favor of brands
Perhaps the most complex change for eCommerce brands has been a number of factors related to ad spend. In summary, ad spend has become more difficult, and customer acquisition more expensive, for a number of reasons:
Since 2018, Amazon emphasized ad sales as a key to profitability, to the detriment of ad spend efficiency for brands (relative to its prior listing paradigm).
Apple's decision to restrict formerly accessible data in its iOS 14 update has severely hampered ad spend efficiency across social media platforms and on Google. Advertising on Google and social media had been a reliable mainstay for many digitally native brands.
New tools (which our companies continue to experiment with and fine tune) aimed at improving attribution are helping but have not evolved enough to efficiently provide good visibility into new customer acquisition.
Large retailers looking to monetize their customer bases in today's eCommerce world are creating marketplaces. While these marketplaces can be interesting new channels for brands, they also sop up advertising "real estate" capacity and drive up ad spend costs for brands.
Looking Ahead…
So, given all these negative headwinds, where do consumer brands go? Is it best for investors to just stay away from brands until the environment changes?
We at Altacrest do not believe so. There are important fundamental reasons to stay in consumer, and we believe the number of interesting investment opportunities will increase in this environment.
Consumer spend is 70% of the U.S. economy. The consumer is hitting a very rough patch at the moment. But brands are not going away. We are staying away from situations that seem to be "peaking" or unsustainable due to Covid or other temporary disruption (and founders looking to "exit at the peak"). But, the opposite is also true: there are good brands with good leadership teams out there focused on the right things, and those situations can be great opportunities.
eCommerce will soon return to a "new normal", which could be very much like the "old normal". Please see the chart below: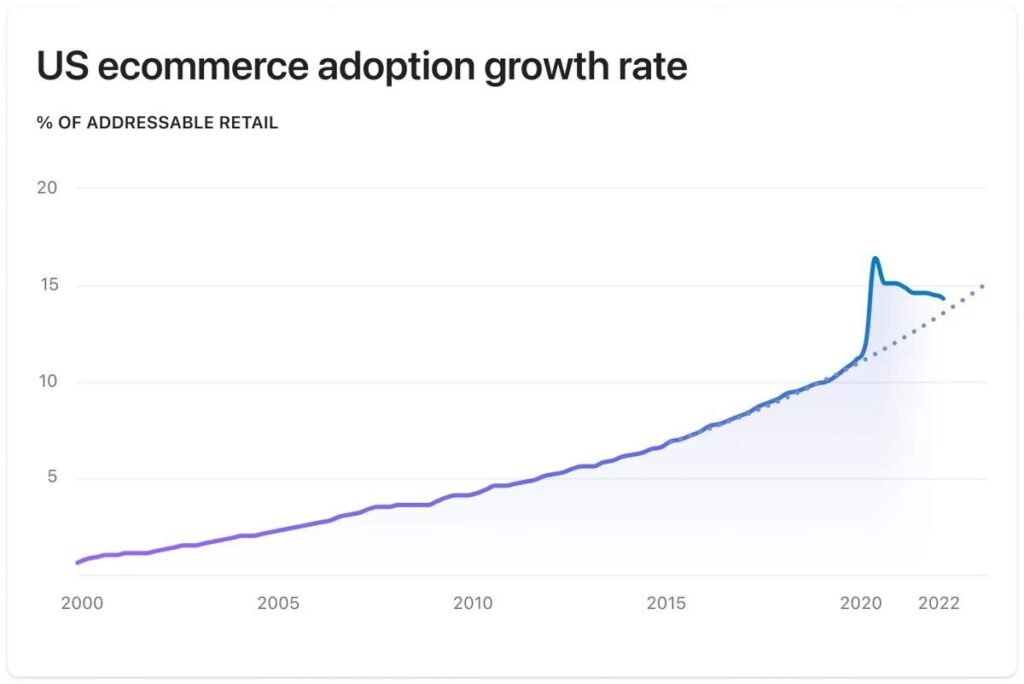 We've read headlines recently that suggest eCommerce was a "Covid phenomenon" that's now passed us by. We couldn't disagree more. The chart above shows that eCommerce has consistently taken share from physical retail over a 20+ year period. Data sets this large don't disappear. Granted, there is clearly an "artificial" or temporary bump demonstrated above. But look at the most recent data points. We're about to meet back up with longer term trends. Just ask yourself: has anyone you know stopped shopping on eCommerce channels? There are simply too many advantages to shopping and selling on eCommerce channels for consumers and brands to cease doing so. The conveniences provided by online shopping such as the direct relationship a customer can have with a brand and the ease of the experience will drive continued growth in the adoption of ecommerce. The future is bright for eCommerce brands and we believe back to the "old normal" is the most likely scenario. And, if you look at the chart above, we're almost there.
Executing and Investing in Consumer Brand Fundamentals: 2 sides of the same coin
At Altacrest, we have always seen tremendous advantages to eCommerce for younger brands. eCommerce is a great tool for a brand to get to know and own a consumer at an earlier stage than was possible in a physical retail only environment. Inventory management becomes smarter. Profitability and cash flow are higher, and customer concentration is much less of a risk. This has not changed. And the consumer will keep shopping on eCommerce channels.
In this difficult environment, our portfolio companies are focusing on:
PROFITABILITY
New product development
Intelligent inventory management
Cost discipline
Exploring new channels
Intelligent, strategic, disciplined industry consolidation opportunities
In short, we are focused on the fundamentals. Staying focused on these operational enhancements today while preparing for future growth will benefit our brands longer term. We are looking for investment opportunities in companies with leaders who are similarly focused.